Wands & Kickers Cat Toys are a great interactive toy for cat or kitten.
We have a wonderful assortment to satisfy your new kitten or your full-grown cat and all chock filled with 100% organic catnip.
Browse our selection below….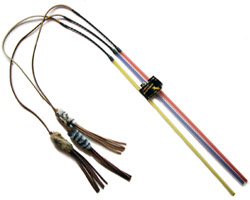 PURRfect™ Leather Bouncer & Feather Bouncers
SKU 00063
Product Details
Always a favorite, we have PURRfect™ LeatherBouncer & FeatherBouncers for your kitties to get a fantastic play session! The leather bouncers are made of Natural Processed Leather with a Faux Fur End that Cats Adore!!! These cat toys are wonderful and a cat favorite in my house.
Feather Bouncers come in a few different colors. Please specify if you have a preference: green (3), blue (1)
Details:
Size:
18" Clear Colored Wand
6" Springy Flex Cable
Save this product for later
Browse our ever-changing Collection of Cat Toys & Cat Beds
All of our catnip toys are handmade by one craftswoman. Our fabrics, polyfill and organic catnip are all high quality.
Visit our Cat Bed shop for handmade & Design Your Own Custom Cat Quilts!
shop for cat quilts
For the cat who loves a bargain! Visit our Featured Cat Toy of the month for unique pet gifts and discounted Cat Toys !
cat toys on sale
Join us on facebook. We love to see our happy customers, so please share photos of your cats enjoying their catnip toys!
share your photo's