Does your cat have a sweet tooth? It's always dessert time at the Catnip Cafe!
Our dessert tray is chock filled with 100% organic catnip toys that are not only delicious, but they are calorie-free!
Browse our dessert tray below….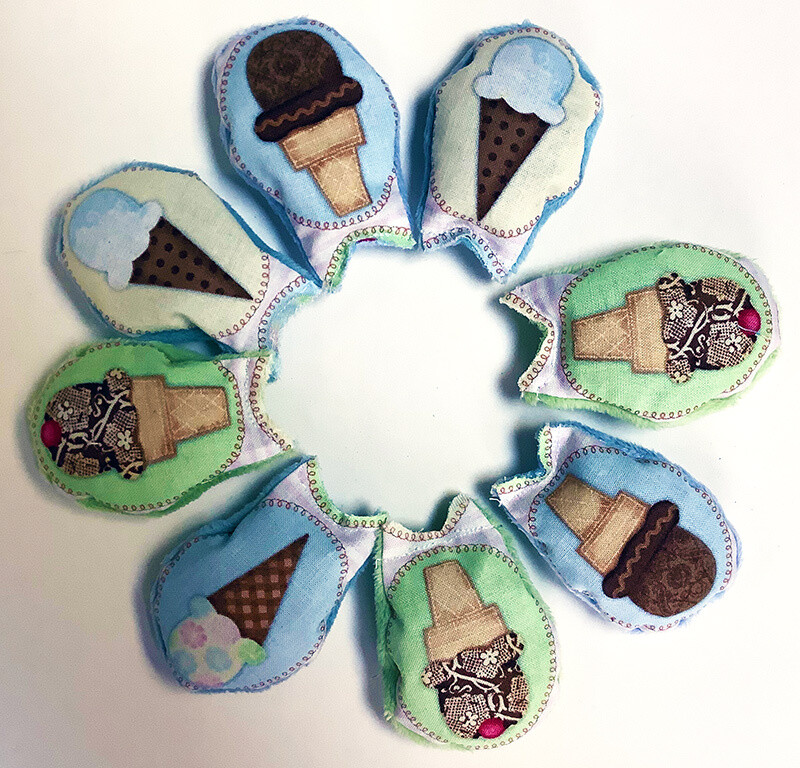 One Scoop
SKU 00155
Product Details
Who can resist a frozen treat? We are sure your cat won't and we have them in a special no-melt variety to wet your cats' appetite!! Your cat will have a grand ol' time tossing ... kicking ... rolling ... and throwing around these handmade toys! They're filled with our 100% organic catnip. Made from 100% cotton fabrics.
Details:
* About our Catnip: We use only the finest 100% organic catnip in our toys. It's grown in the USA without pesticides on an organic farm. All of our catnip toys are filled with our finely cut, long lasting catnip.
Size:
Approx. 2"

Save this product for later
Browse our different Collections of Cat Toys
All of our catnip toys are handmade by one craftswoman. Our fabrics, polyfill and organic catnip are all high quality.
Join us on facebook. We love to see our happy customers, so please share photos of your cats enjoying their catnip toys!
share your photo's
For the cat who loves a bargain! Visit our Featured Cat Toy of the month for unique pet gifts and discounted Cat Toys !
cat toys on sale
Handmade 100% Organic Catnip Toys & Catnip-free Toys
The Catnip Cafe was awarded the "5 Paw Approval Rating" from the Cummings School of Veterinary Medicine at Tufts University! Our cat toys have been featured in Cat Fancy Magazine. Browse our huge assortment of unique cat toys, all made by one craftswoman since 1998. Made in the USA