Cat toys made with Laurel Burch Collection cat fabrics, have always been wildly popular at the Catnip Cafe
so we have always kept a full stock. Our Laurel Burch collection is filled with 100% organic catnip
Browse our Laurel Burch Collection below….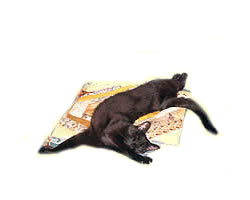 Assorted Cat Quilts
SKU 00124
Product Details
Cat Quilts in a variety of styles and fabrics! We have an assortment of handmade cat quilts all made with quality fabrics and fluffy polyester batting for a warm place to curl up! Machine washable and dryable and very durable. Please see the bottom of each image for size and price.
*satin quilts are purrfect for longhair cats - just wipe off the cat hair (it doesn't stick!)
*minkee fabric is an ULTRA soft fabric
Save this product for later
Browse our Handmade Cat Toys – Made in the USA
All of our catnip toys are handmade by one craftswoman. Our fabrics, polyfill and 100% organic catnip are all high quality.
Visit our Cat Bed shop for handmade & Design Your Own Custom Cat Quilts!
shop for cat quilts
For the cat who loves a bargain! Visit our Featured Cat Toy of the month for unique pet gifts and discounted Cat Toys !
cat toys on sale
Join us on facebook. We love to see our happy customers, so please share photos of your cats enjoying their catnip toys!
share your photo's