For the Healthy Cat, our Catnip Toys
Fruits and Veggies are always in season and Not only are our cat toys filled with 100% organic grown catnip, they're handpicked, handmade and delivered fresh to your door!
Browse our fresh selection below….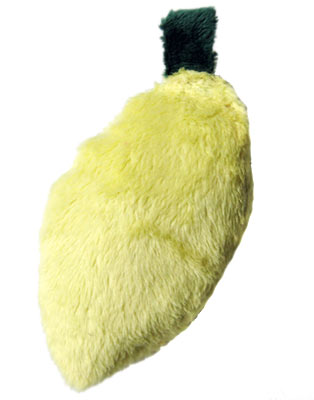 Lemon Catnip Toys
SKU 00003
Product Details
Fresh from the tree, and filled to the brim with our 100% POTENT organic catnip. These succulent lemons are just the right size for your kitty to throw around. Made with our extremely plush and soft minkee fabric. Your cat will eat these cat toys up!
Details:
Size: Approx. 4 x 2.5 inches
Save this product for later
Check out all of our Cat Toys and Cat Beds
All of our catnip toys are handmade by one craftswoman. Our fabrics, polyfill and organic catnip are all high quality.
Visit our Cat Bed shop for handmade & Design Your Own Custom Cat Quilts!
shop for cat quilts
For the cat who loves a bargain! Visit our Featured Cat Toy of the month for unique pet gifts and discounted Cat Toys !
cat toys on sale
Join us on facebook. We love to see our happy customers, so please share photos of your cats enjoying their catnip toys!
share your photo's