What cat wouldn't want to spend the day catching a mouse? Especially if their cat toy was filled with 100% organic catnip!
We have a wonderful assortment of cats mice & bugs catnip toys, all handmade and ready to be loved by your cat.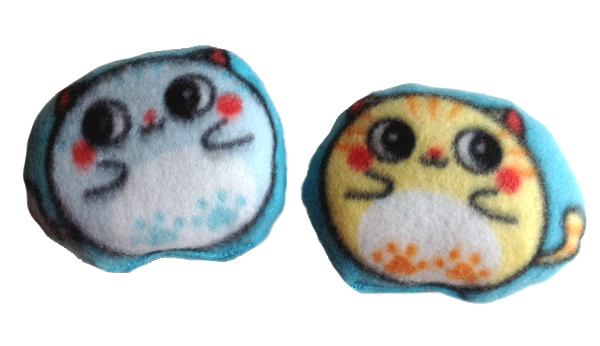 XL Kitty Tosser
SKU 00174
Product Details
Blue color is left - yellow is sold out! XL Kitty Tossers are a wonderful interactive toy handmade from a super soft fleece fabric that has a bit elasticity that makes it bounce, roll and fly across a room! These fun prints come in two colors and are filled with a high quality polyfill and a generous helping of our super potent organic catnip. Batters up!
Details:
Size: Approx. 4" inches diameter
Save this product for later
Browse our Cat Toys & Cat Beds
All of our catnip toys are handmade by one craftswoman. Our fabrics, polyfill and organic catnip are all high quality.
Visit our Cat Bed shop for handmade & Design Your Own Custom Cat Quilts!
shop for cat quilts
For the cat who loves a bargain! Visit our Featured Cat Toy of the month for unique pet gifts and discounted Cat Toys !
cat toys on sale
Join us on facebook. We love to see our happy customers, so please share photos of your cats enjoying their catnip toys!
share your photo's