What cat wouldn't want to spend the day catching a mouse? Especially if their cat toy was filled with 100% organic catnip!
We have a wonderful assortment of cats mice & bugs catnip toys, all handmade and ready to be loved by your cat.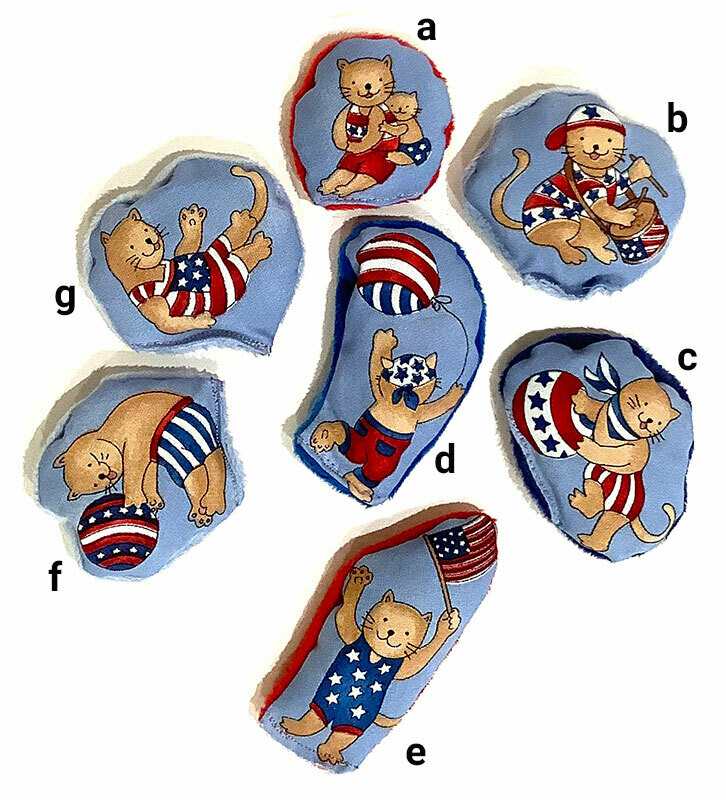 Born in the USA
SKU 00133
Product Details
Born in the USA! Your cat will enjoy countless hours of selfie play tossing these cute catnip toys around the house. Handmade with 100% cotton fabric. Like all of our toys, these are filled with our 100% POTENT organic catnip.
Details:
Size: Approx 2.5 - 3 inches
Save this product for later
Browse our Cat Toys & Cat Beds
All of our catnip toys are handmade by one craftswoman. Our fabrics, polyfill and organic catnip are all high quality.
Visit our Cat Bed shop for handmade & Design Your Own Custom Cat Quilts!
shop for cat quilts
For the cat who loves a bargain! Visit our Featured Cat Toy of the month for unique pet gifts and discounted Cat Toys !
cat toys on sale
Join us on facebook. We love to see our happy customers, so please share photos of your cats enjoying their catnip toys!
share your photo's