All of our Cat Toys & Catnip Toys are Handmade, unique and filled with 100% organic catnip! We have a wonderful assortment of cute catnip toys, all made with care.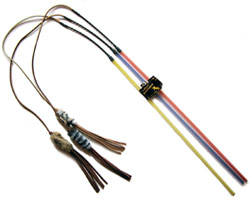 PURRfect™ Leather Bouncer & Feather Bouncers
SKU 00063
Product Details
Always a favorite, we have PURRfect™ LeatherBouncer & FeatherBouncers for your kitties to get a fantastic play session! The leather bouncers are made of Natural Processed Leather with a Faux Fur End that Cats Adore!!! These cat toys are wonderful and a cat favorite in my house.
**WE ONLY HAVE 1 white FEATHER WANDS LEFT IN INVENTORY!
**WE ONLY HAVE 1 LEATHER BOUNCER LEFT IN INVENTORY!
Details:
Size:
18" Clear Colored Wand
6" Springy Flex Cable
Save this product for later
Join us on facebook. We love to see our happy customers, so please share photos of your cats enjoying their catnip toys!
share your photo's
For the cat who loves a bargain! Visit our Featured Cat Toy of the month for unique pet gifts and discounted Cat Toys !
cat toys on sale