Handmade Pieced Cat Quilts
We have a special offer – our Pieced Cat Quilts at a VERY special price – now all of these hand-pieced, hand stitched and truly unique works of art are on sale until they are gone! 1/2 all quilts (also includes quilts with tassels). There are different style quilts including : pieced, crazy quilts, postage stamp quilts – all made by hand for a cozy chair or sofa!
Details: Made with 100% quality cotton fabric & filled with a high quality polyester batting.
Machine washable and dry-able and very durable
Pieced cat quilts : original price $56 NOW only $23
Pieced cat quilts with tassels : original price $76 NOW only $33
All quilts are Approximately 18 inches square. Some quilts have tassels! Tassels add flair to your pet's quilt. They're handmade from 100% English cotton threads and are securely sewn and machine washable. Colors are custom selected to match each individual quilt. Cats love to play with 'em too!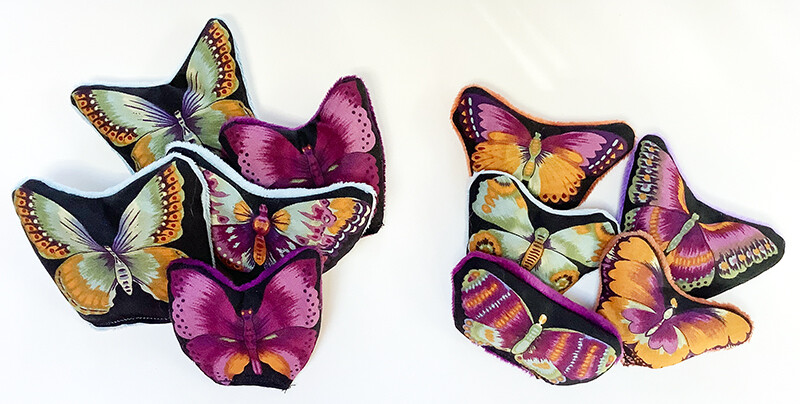 Watercolor Butterfly Catnip Toy
SKU 00158
Product Details
These new catnip toys are flying off the shelf at the catnip cafe!! Our wonderful watercolor butterflies feature a rich 100% cotton print backed with our wonderfully soft minkee fabric - comes in purple, copper & light blue backing

Handmade and filled with our POTENT 100% organic catnip.

Details:
* About our Catnip: We use only the finest 100% organic catnip in our toys. It's grown in the USA without pesticides on an organic farm. All of our catnip toys are filled with our finely cut, long lasting catnip.
Size: Large & Small
Save this product for later
---
Visit our Cat Bed shop for handmade & Design Your Own Custom Cat Quilts!
shop for cat quilts
For the cat who loves a bargain! Visit our Featured Cat Toy of the month for unique pet gifts and discounted Cat Toys !
cat toys on sale
Join us on facebook. We love to see our happy customers, so please share photos of your cats enjoying their catnip toys!
share your photo's